What you need to know
Google is starting to rollout its new emoji reactions for mobile Gmail users on Android before bringing it to iOS and web users "over the next few months."
Once available, users will find a smiley face at the bottom of an email which will open an initial row of emojis with a "+" icon for a larger menu.
There are some limitations users may come across if they have sent an email from a non-Gmail account or if their app is out of date.
Mobile Gmail users should prepare themselves for a new update that'll make all those emails a little more enjoyable.
Beginning today, Google Workspace is rolling out emoji reactions for Android Gmail users, according to Google. Web and iOS users will receive this fun and expressive tool "over the next few months." For what to expect, Google states once users receive access, they'll find a smiley face emoji at the bottom of an email.
Tapping on the smiley face will open a single row of emojis. Additionally, interacting with the "+" at the far right will open an extensive emoji selection menu, requiring only a single tap to send it away.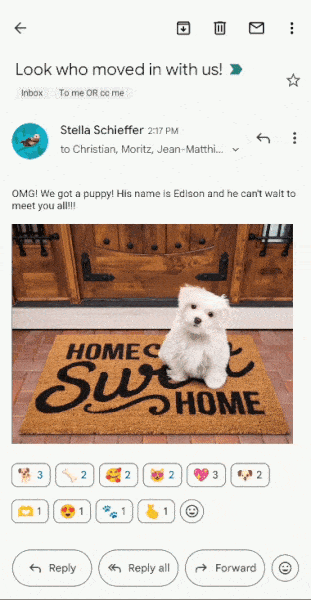 A couple of extra tid-bits about emojis arriving in Gmail are as follows:
The party popper emoji  🎉 will have a short, full-page animation on send and on the first-time open. Additionally, a limited set of emojis will have a short animation within their emoji chip.
While using the latest version of the Gmail app on your mobile device, or soon Gmail on web, gives users the best experience, those on other third-party email clients will be able to receive reactions as a separate email.
By long-pressing any emoji on an email, users can see a list of

…