What you need to know
Google is prepping its merge of Reminders from Google Calendar and Assistant into Tasks.
With the merge, users will be able to access their to-do items from Gmail, Calendar, Docs, and Chat on the web or the Tasks app directly.
Workspace customer, work, and school accounts will begin seeing a prompt to merge on April 12.
Personal accounts will see an early prompt starting March 6.
In a new Google Workspace blog post, Google details its plans for merging reminders from Calendar and its AI Assistant into the Tasks app. Workspace customers, work accounts, and school accounts can voluntarily migrate their reminders into the Google Tasks service beginning April 12. Those with personal accounts will gain their chance on March 6.
As the company has previously explained, users can view and manage all of their reminders in the Google Tasks once the migration is complete. This allows you to access your to-do lists from across Google's various services, such as Gmail, Calendar, Docs, and Chat on the web. Users can create tasks in any of these and have them synced across multiple services without opening another tab or supplemental application.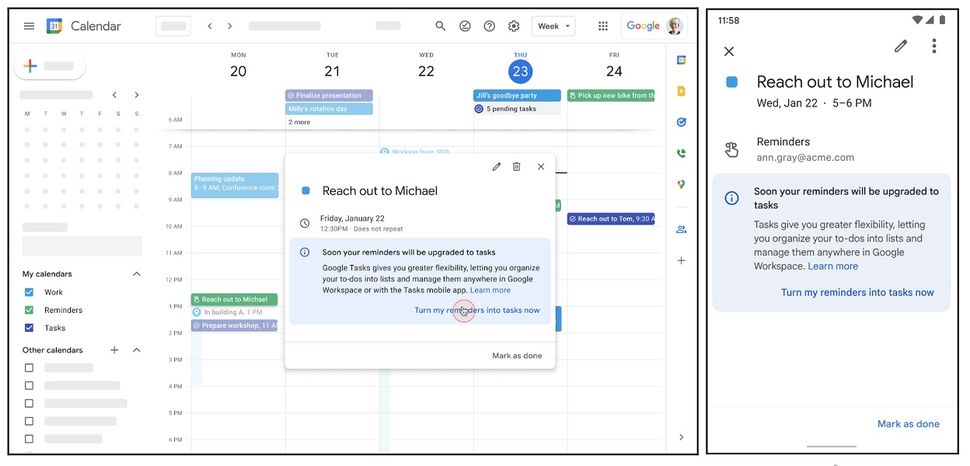 Google Assistant will have the ability to create Tasks instead of the previously used Assistant Reminders feature. These new to-do items can be accessed directly through the Google Tasks app if that is preferable.

It's important to note that on May 22, Workspace customers will have their reminders automatically merged into Google Tasks. Organization admins must enable Tasks for their members to begin the migration. If this is disabled, members of the organization will have their reminders automatically deleted after June 22.

While personal accounts can begin shifting their data over in early March, their reminders will automatically convert into the

…