Google has updated the Android logo adding a 3D version of the iconic Android robot head and using a new wordmark. For the latter, you might notice that the "Android" name now has a capital "A" instead of the lower case "A" that had been used in the Android wordmark over the last few years. The letters 'n' and 'r' are completely rounded like they were in 2008 and 2014 and the robot head now appears to have some depth.
The company told
9to5 Google
that, "We're showcasing some elements of our new brand identity on various surfaces, including our CES booth from earlier this year and other campaign materials like digital & banner ads. We'll have more to share in the coming months." We should see the change surface on the final, stable version of Android 14 which should be released in August. The boot screen currently says "Powered by Android" and shows the old version of the robot head and the lowercase "A" Android wordmark.
Google recently released a pair of print ads that includes the new wordmark and robot head. Both ads focus on switching from iOS to Android.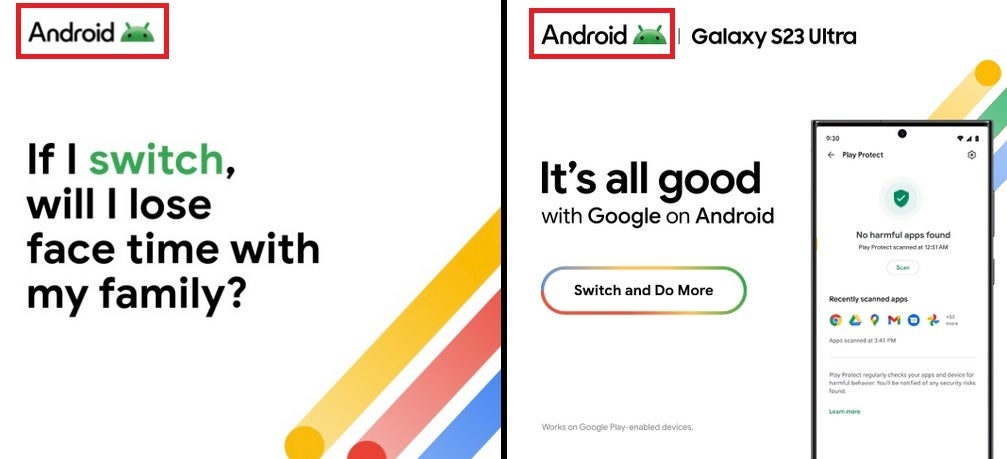 The new Android logo and robot head appear in recent print ads for the platform
Companies like Google and Apple give plenty of thought to their logos and wordmarks since they are usually not just seen in advertisements, but also found on the company's products. For example, we all know how iconic Apple's apple logo is on the back of the iPhone. A couple of years ago an iPhone 11 Pro sold for a premium price because of a printing error that caused the logo to be printed off-center. That particular unit was sold for $2,700 or 2.7 times the usual price of the device.
Android's new branding
…
Read More ...