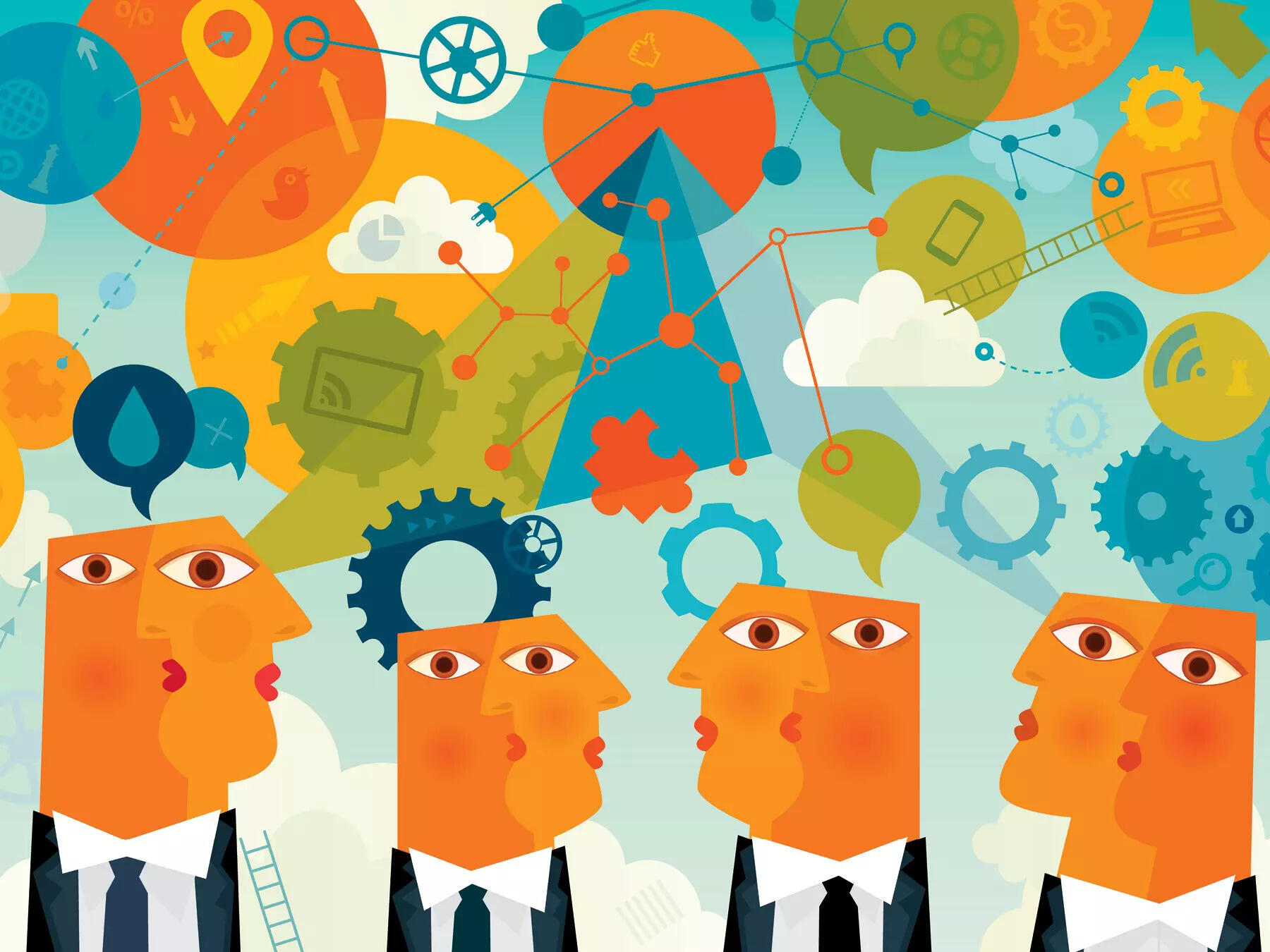 The idea of networking makes several professionals groan. All the small talk, attending of events and keeping in touch with freshly-minted contacts — and for returns that are variable and intangible — can prove overwhelming.
For marketers, networking happens at industry forums and award juries, both local and international. These interactions can be invaluable, especially because there's a chance to share and glean insights from around the world.
Marketers at multinational corporations benefit from regular exposure to global counterparts from their own networks. As Ankit Desai, marketing director, Hershey India, says, "It validates the fact that while the countries may be different, the commonalities are high."
Consumers aren't all that different, wherever in the world they may be. What changes are patterns of media consumption and their evolution. So, at these sessions, media is often a hot topic, especially how "brands from different markets are using different media strategies to reach consumers", says Kapil Grover, CMO, Burger King India.
Universal truths
The challenges and customer behaviour patterns that marketers face are also similar across categories or regions. "If you find a gap in consumers' lives and can fit your brand or product into it effortlessly, then the adoption is seamless," says Sujatha V Kumar, head of marketing (India and South Asia) at Visa.
Vanda Ferrao, CMO, Wow Skin Science, feels that all marketers worldwide believe in the effectiveness of storytelling. "Weaving compelling narratives into our campaigns, whether in cosmetics or any other category, connects with audiences on a fundamental level," she says.
Another thing they agree on is the power of long-term brand building and emotion. Putting consumers at the heart of everything is something that cuts across all brands and categories, says Desai.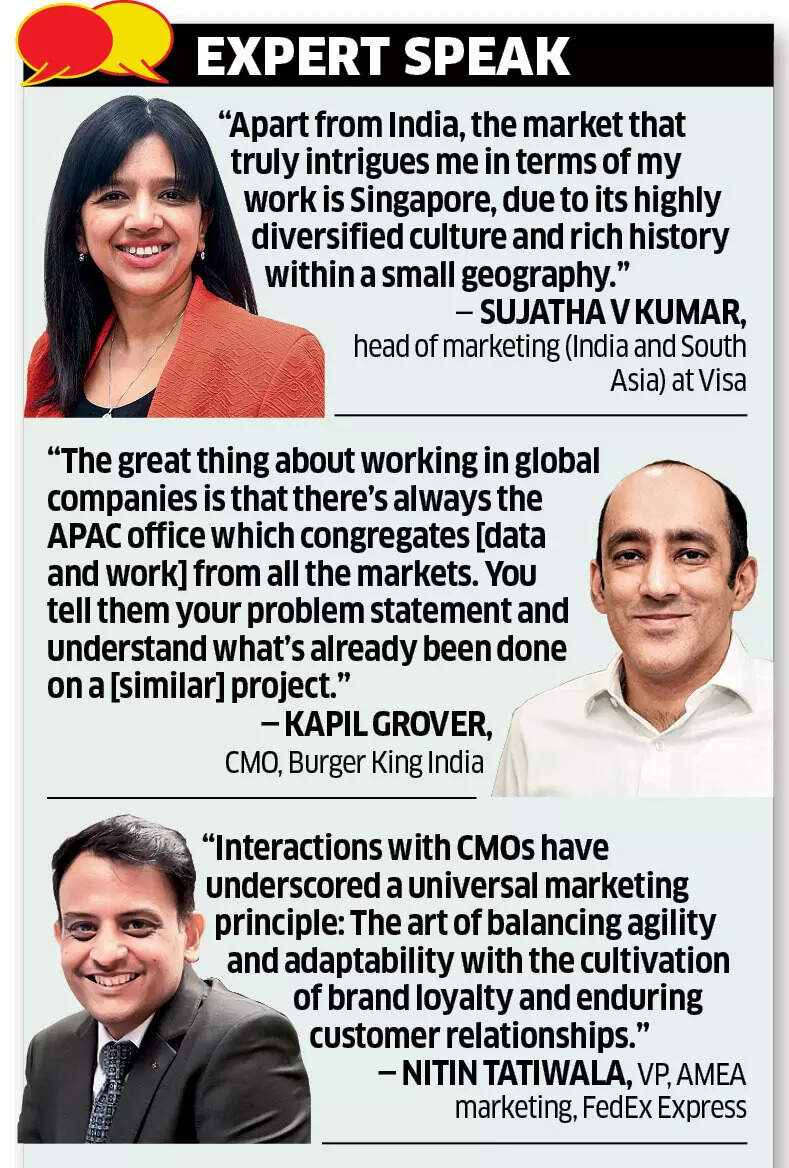 The concept of 'value', too, is universal. "As marketers in India, we often feel that we are dealing with this unique phenomenon of 'value-conscious' consumers. But while different markets have evolved in different ways, the underlying insights are the same," says Saakshi Verma Menon, Kimberly-Clark's marketing director, India.
The most-discussed topics of conversation at these gatherings are category insights, consumer behaviour, effective media channels to reach and convert consumers, the evolving role of technology in building efficiency and effectiveness, marketing automation and product innovation, say CMOs.
Culture shocks
CMOs also have favourite markets and with good reason. Nitin Tatiwala, vice-president, AMEA marketing, FedEx Express, says, "Conversations with CMOs from innovative regions like India, Southeast Asia and China have been immensely enriching." He adds that these markets have witnessed three waves of change: One driven by the consumerisation of technology, emphasised design thinking, data-driven product decisions and customer centricity. The second focused on incorporating inclusion, privacy and sustainability into businesses, while the third, promising transformative opportunities, is a blend of the first two waves.
Speaking to CMOs from other regions also reminds one of how unique some problems can be. For instance, summers are more forgiving in certain foreign markets, so brands can "leverage that with summer campaigns celebrating the heat and using it as an out-of-home occasion, while in India, we go into hibernation", as Verma Menon says, so summer campaigns here become "at-home time with family and friends".
Abraham Alapatt, president and group head of marketing, service quality, value added services and innovation, Thomas Cook (India), brings up another anecdote arising from marketers taking global campaigns and adapting them locally. "An auto company was looking to launch one of its models in China. Its communication had a line in the US which was complimentary to the car. But in Chinese, it loosely translated to 'a spoilt lemon'," he recalls.
Another kind of 'culture shock' in marketing can come from the success of an unimaginable process. For Ferrao, one such moment came from a conversation with the CMO of an American beauty and personal care startup, who mentioned that 90% of his team in content creation, demand generation and market insights was based out of Indian tier-1 and tier-2 towns. "He spoke of using technology to understand consumer trends in the US markets and deploy effective campaigns with stellar RoI. This was a penny-drop moment, demonstrating how technology can build market and consumer understanding remotely," she says.
However, the invaluable advantages that come from exchanging notes with fellow CMOs don't come often enough. Marketers believe that there need to be more forums and avenues for marketing heads across categories to have insightful discussions, much like how the US and the UK do. "There aren't too many great platforms in India bringing global CMOs together. If there are, they are elite and by-invitation only," says Alapatt.
Desai agrees. "Interacting with marketers and commercial leaders from different organisations is something that we can improve, especially [with] those from other countries," he says.
Cross-network exchanges
Marketers are also trying to learn from each other how generative AI can reshape customer experiences, enhance productivity and drive growth. "Apart from exchanging insights into various growth models and market landscapes, these meetings are also excellent opportunities to develop innovative marketing strategies and think of cross-geographical collaborations for common sponsorship events like the Olympics or the FIFA World Cup," says Kumar.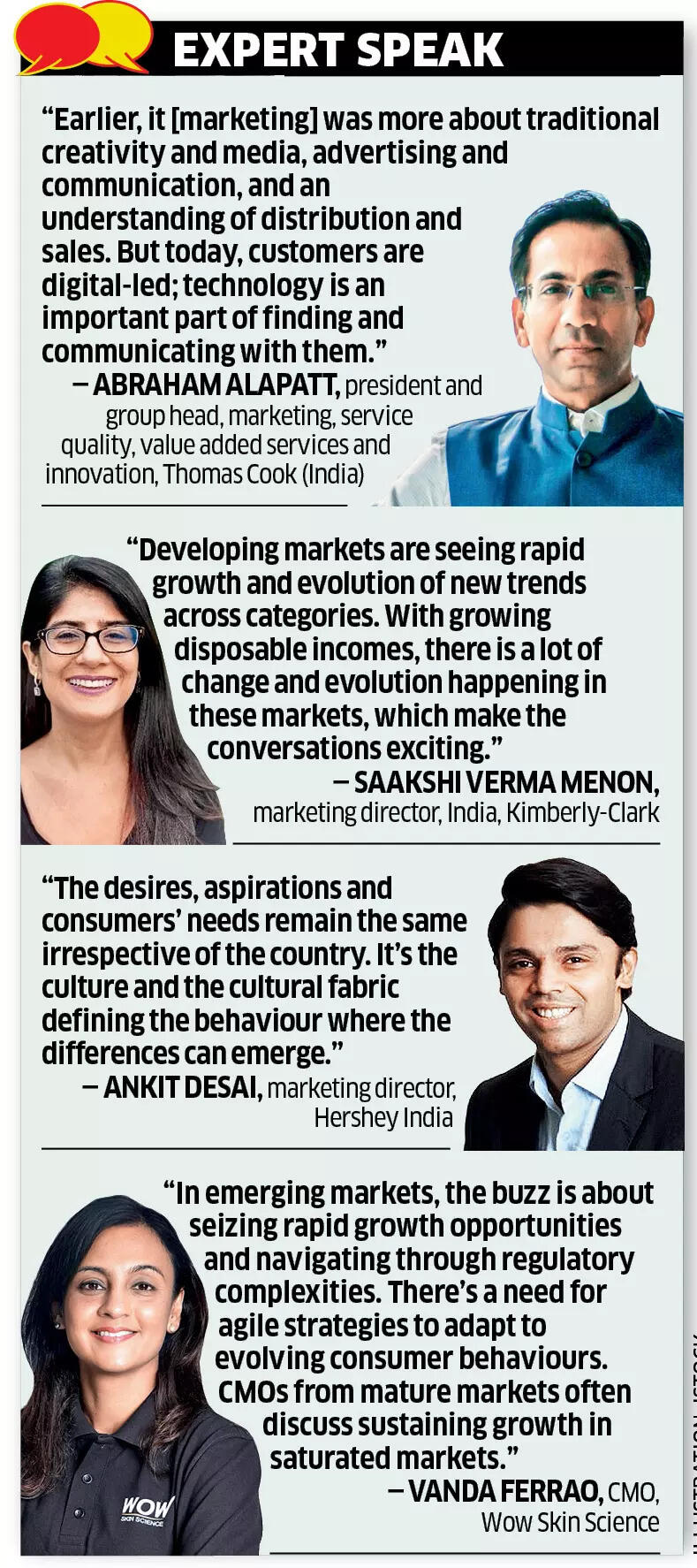 A common practice is to float a challenge within the company's network, only to learn from another CMO's experience in cracking something similar. With this kind of exchange, one learns about evolving category-specific guest behaviours, says Grover. It also makes the process more efficient since many markets are in similar evolutionary stages. "The interactions with CMOs from other countries help shorten the learning curve for us," says Verma Menon.
Alapatt finds the award juries enriching. "It's amazing how much one can learn from other industries — especially B2C businesses in the service industry," he says, adding that these conversations can also be fertile breeding ground for effective brand collaborations.
Emerging vs mature markets
Indian CMOs also find a chat with marketers from developed markets revealing. The consumer evolution cycle being different impacts the relevance of various use cases. The differences in markets mostly arise from cultural nuances, too. "Emerging markets like India have a diverse mix of big metros and small towns, unlike say Singapore, which is more homogenous. That's why in India, we believe that a one-size-fits-all approach to marketing will not work," explains Kumar.
"I don't want to take away from marketing case studies coming from the US — it's difficult to innovate there since everything has already been done. But the customer segments don't change too dramatically; they don't see too many paradigm changes happening over two-three years [like we do in India]," Alapatt adds.
In emerging markets, the focus is typically on creating awareness for the brand and generating trials, while in evolved markets, building frequency, loyalty and understanding the consumer even more deeply are the challenges. Developed markets, on the other hand, are assumed to have more stable, mature economies with an older, ageing population that's used to certain consumption patterns.